Our offices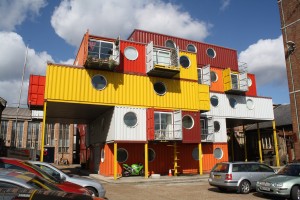 Though we're now based in the beautiful Welsh town of Hay on Wye, world famous for its annual book festival, our spiritual home will always be Container City. This eco-friendly office development in east London is manufactured from recycled shipping containers. And the events we manage reflect that, whether they have a green message or not.
We worked for five years at Container City, alongside large companies such as Thames Clippers, English National Opera and Urban Space Management as well as a fantastic array of young artists, designers and creatives, all of whom fed in to the Seventeen ethos of style, substance and sustainability.
Our new home in the country gives us the space to think and a fresh perspective to offer our clients. If you're visiting for the festival, rummaging through the book shops or walking in the Brecon Beacons, get in touch – we'd love to hear from you.